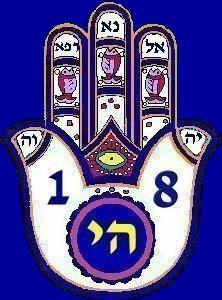 THE HEALING HAND (Hamsa)...For meditative Healing

Jewish mystics believe that you should always have God's
name in front of you. They take this from the Torah statement, "...and you shall put God's name before you."

Try this:

1.) Meditate on The Healing Hand's symbols.

2.) Contemplate HaMakom's (God's) presence and healing power.

3.) Now, Feel HaMakom's presence and healing power flow through you..

(Do this for Chai-18 minutes a day)

It has been said that this helps in the healing
process and has produced favorable results
for many people.



SYMBOLS:

18 means:
LIFE = "CHAI" (in Hebrew)

1 means:
GOD IS ONE

8 sideways means:
GOD IS INFINITE

Fish symbolize:
LIFE

3 Spots mean:
TORAH, PRAYER, ACTS
OF LOVING-KINDNESS

4 Spots mean:
THE FOUR TIKKUNIM
(Areas of Healing)..
HEART, SOUL, MIND, WORLD

Crown of all-seeing eye:
watches to remind us...
DO GOOD FOR OTHERS!

Hebrew on fingers means:
"GOD, PLEASE HEAL US"

Hebrew on thumbs are:
God's Names...
ADONAI; HASHEM; YHVH